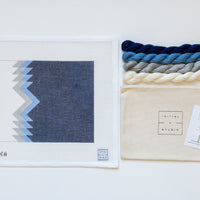 All Levels
Description
Canvas design based on the Cielo quilt pattern found within my book,
Southwest Modern
. This canvas would be great finished as a clutch, pillow or framed artwork.
Details
Canvas: 13 mesh, stitch painted
Color: Blue

Design size: 8.5" x 7"
Canvas size: 12.5" x 11" 


Canvas + Kit includes canvas, two tapestry needles, and Planet Earth Silk fibers in a canvas zipper pouch.



Canvas Only includes two tapestry needles.
Shipping Information
Please allow two to three business days for orders to be processed and shipped.